Year 6 English
AUTUMN
For the first half of autumn term we will study a range of WW1 texts. 'Friend or Foe' by Michael Morpurgo will be the basis for our reading and comprehension studies. Children will also have access to a range of war poetry, letters from the trenches and picture texts.
Year 6 will also produce some non-fiction writing based on the use of animals in war.
During the second half of autumn term our author focus will be Robert Swindells and our text will be Blitzed.
Our genre focus for the Autumn term will cover:
Interview writing
Narrative
Discussion text
Description writing
Biographies
We will also be using the life of Reginald Mitchell as a writing focus, alongside letters and newspapers from WW1 and WW2.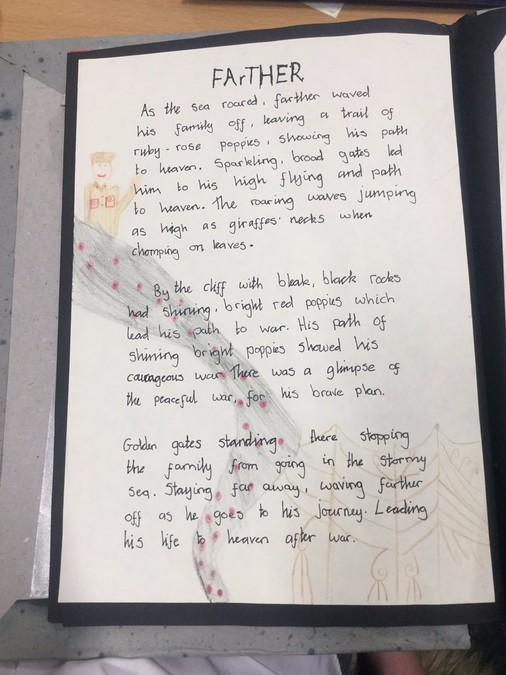 SPRING
Our exciting text study this term is David Almond's fantastic 'Skellig'. This text is a direct link to our science study of classification and adaptation.  Year 6 pupils will explore the unknown of the 'creature' found in the garage. From this, pupils will create; diaries from the main character's point of view, suspense and tension writing, themed poetry, newspaper articles and alternative chapter endings.
Our topic will also make way for biographical studies based on famous scientists linked to classification and adaptation.
 Grammar, spelling & punctuation:
An important element of our English work is grammar, spelling and punctuation and how we apply these skills in both our reading and our writing across the curriculum. To help you work on these areas there are some useful links to games and revision guides below:
http://www.bbc.co.uk/bitesize/ks2/english/spelling_grammar/
http://resources.woodlands.kent.sch.uk/
WE ARE PUBLISHED AUTHORS
Our Year 6 pupils entered the Young Writers competition in the autumn term. We are very proud to say that several of the entries were winners! They all worked very hard to create some fantastic poems about dreams and nightmares. Here are some of our winners with their certificates.